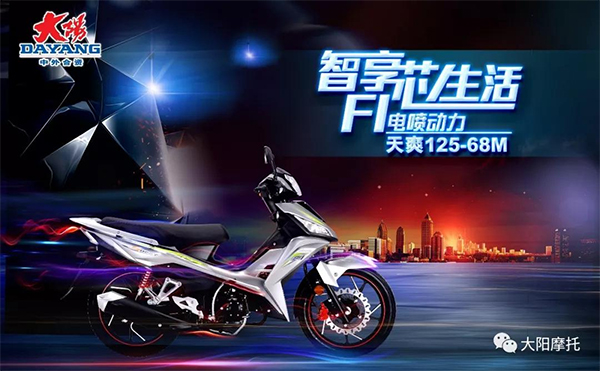 Fresh Style
Swift and Dynamic!

Streamline modeling, upward waistline, anddiving vehicle body which showing trenchant and smart. Spreading headlight, eagleeye front indicator, diamond cutting taillight, LED rear indicator are shinningas the star. Two-tone sporting handlebar cover, different carbon-style cover ofhandlebar, muffler and vehicle body with more tactile quality. High level modelDY125-68M uses aluminum alloy sport sub-foot step, aluminum alloy rear cover ofmuffler, aluminum alloy sport rear carrier, sport wheels and with optional middlecarrier and big carrier, fashionable and functional.

Improved FI Engine
Powerful and Save Gas!

EPI125FI multi-clutch engine is DAYANG new product. The engine could accuracycontrol the fuel injection and duration of ignition for more powerful and loweroil consumption. Engineered to optimize port timing and combustor, improvingstarting acceleration, passing acceleration, climbing acceleration and so on, EPI125engine applies AVL high-level designed software, and the maximum speed can reach88km/h. Compare with the same carburetor engine, EPI125 engine is more economicand green because the oil consumption can be reduced 20%.
In order to make sure the endurance ofengine and raise longevity of engine, EPI125 engine has increased the flow ofoil pump and with the new design of piston back cooling. Meanwhile, the engineis using "RIKEN" wear-proof piston ring, clutch with "FFC" fiction material,roller rocker and so on. Integrated cylinder head optimizes the enginestructure, and decreasing the deformation of the engine during the working.
Strong Body
Safe and Steady!

According to the analysis of CAE, thestrength of body structure has improved 17%, and it has a better stability. Highspeed driving can feel the smoothness and comfort. Tubeless tire and reinforcerear tire improve the loading capacity. Better helper better life. With 276mm superfront brake disc, short braking distance has more braking power to call on.
Braking System Option:
1. FRONT DISC/REAR DRUM (DISC)
2. CBS
Special Design
Functional and Convenient !
Functional design: two compartments met-inbox and USB charging port. Wherever you go, the power always beside you.
Convenient maintenance: just take down 3bolts, vehicle electric device can be overhauled.
Available Color